You do this, right?
When you're waiting at a subway station, you think: "Where's the escalator going to be at my arrival station?" And then you move to that spot in your departure station, so you have less distance to walk when you get to where you're going. Right?
I fly out of SFO about five or six times a year. Frequent enough that I should know where the elevators and stairs are, but not so frequent that I've actually bothered to note where everything is. Coupled with the fact that there's both the BART and the AirTrain to work with, and that I'm usually a little stressed about security / catching my flight / the work I haven't finished / etc., it's a little more complicated. I wanted to fix that, so here are my notes from the last time I flew out. Maybe they'll help you, too, but these are mostly here for me.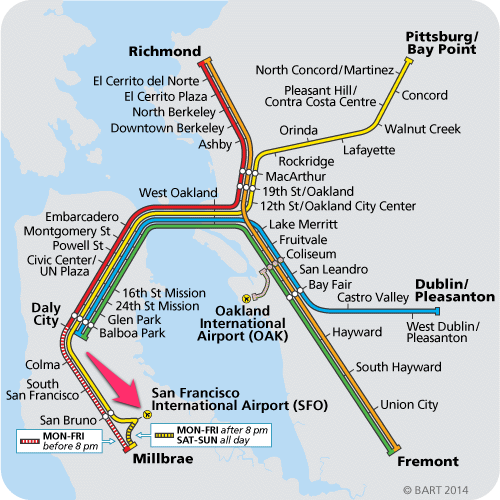 Get on the BART, heading towards SFO. Feel free to wait until there's an SFO train, but I tend to get on the first one heading in the right direction and then get off at Balboa Park or San Bruno. (My general rule growing up in DC was: You don't know when/where the trains might not work anymore, so mitigate risk by getting as close as you can, as early as you can. Walking to Clarendon from Rosslyn wasn't bad; walking from somewhere in the city was a lot harder.)
Where to sit on BART? You want to be at the front door of the sixth car of the train. This will put you in prime position to go up the elevators at SFO. Sit on the left-hand side of the train.
Once the train gets to SFO, step out the doors of the train and head up the escalator. Of the two escalators, it'll be the one closer to the front of the train.
Congrats. You're at SFO. The following bit assumes you're heading out on Virgin (Terminal 2).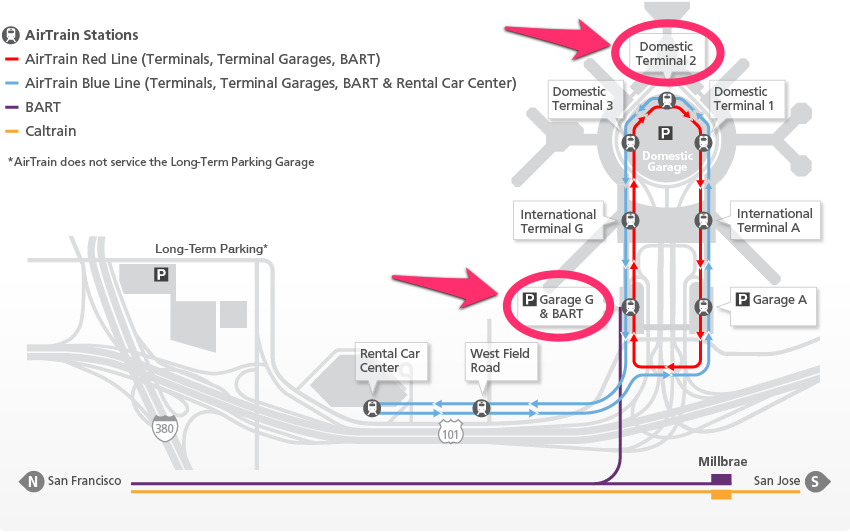 Walk through the BART gates, then head to the left-hand side, to get on the "Red Line" AirTrain. (You can take a Blue Line AirTrain (on the right) if the timing works out just right, but the red loop will save you a stop.)
As to where to stand to get on the Red Line AirTrain? It doesn't matter a ton, but the very last AirTrain door (farthest from the BART turnstiles) usually doesn't open, so you might want to be one up from that.
You'll take the Red Line AirTrain to Terminal 2. Once you get out of the train, head to either set of stairs/escalators. Go to whichever set has fewer people on it and is closer to you (both head to the same place).
Once you're at the bottom of the stairs, turn to go into the airport. Moving walkway. Escalator. TSA checkpoint.
Then get in line, and be ready for all of your timesaving gains to be obliterated as you wait for security to let you through. (If you can get it, I highly recommend the TSA Precheck program!)